Ur...
Olav
...
Who
?
In the Orchard: Olav H. Hague (1908 - 1994)
Not the
E. E. Cummings poem
(and that's
Olaf
anyway), but a
Norwegian poet
who spent his entire
life on a farm in the small town of Ulvik
. In addition to his own poems, he translated English, French, and German poets into his native language, and was influenced by classical Chinese poetry.
Many thanks to
Copper Canyon Pres
s and their selection of his poems
The Dream We Carry
for introducing me to this quietly beautiful writer.
I Have Three Poems
I have three poems,
he said.
Who counts poems?
Emily tossed hers
into a trunk. I
doubt if she counted them,
she simply opened another tea bag
and wrote a new one.
That was right. A good poem
should smell of tea.
Or of raw earth and freshly cut wood.
(Translated by Robert Hedin)
To My Fingers
Oh, you fingers,
how many hours you've had
to slave for a cold brain
and a dead body!
And if I didn't write then
you would take to whispering.
Didn't the poems become good then!
When you were speaking with tongues of fire!
(Translated by Robert Hedin)
The Dream
Let us slip into
sleep, into
the calm dream,
just slip in - two bits
of raw dough into the
good oven
that we call night,
and so to awake
in the morning as
two sound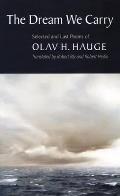 golden loaves!
(Translated by Robert Bly)
from
The Dream We Carry: Selected and Last Poems of Olav H. Hauge
(Copper Canyon Press, 2008)