Simin Behbahni
is a
prominent contemporary Persian poets. Although she is considered Iran's national poet (The
Lioness of Iran) that country denied her a travel permit in 2010 as she was boarding a plane to Paris.
Audio of Behbahni reading her work can be found
on the NPR website here
This poem is from the new anthology,
The Forbidden: Poems from Iran and Its Exiles, edited by Sholeh Wolpé, who I had the great pleasure of meeting at this year's AWP Conference in Chicago
.
Our Tears Are Sweet
Our tears are sweet, our laughter venomous.
We're pleased when sad, and sad when pleased.
We wash one hand in blood, the other we wash the blood off.
We cry as we laugh at the futility of both these acts.
Eight years have passed, we haven't discovered their meaning.
We have been like children, beyond any account or accounting.
We have broken every stalk, like a wind in the garden.
We have picked clean the vine's candelabra.
And if we found a tree, still standing, defiantly,
we cut its branches, we pulled it by the roots.
We wished for a war, it brought us misery,
now, repentant, we wish for peace.
We pulled wings and heads from bodies,
now, seeking a cure, we are busy grafting.
Will it come to life, will it fly,
the head we attach, the wing we stitch?
translated by Farzaneh Milani and Keveh Safa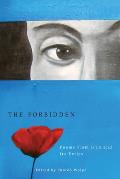 from The Forbidden: Poems from Iran and Its Exiles
, edited by
Sholeh Wolpé (Michigan State University Press, 2012)